Update from Mathare Slums - Brenda Allsop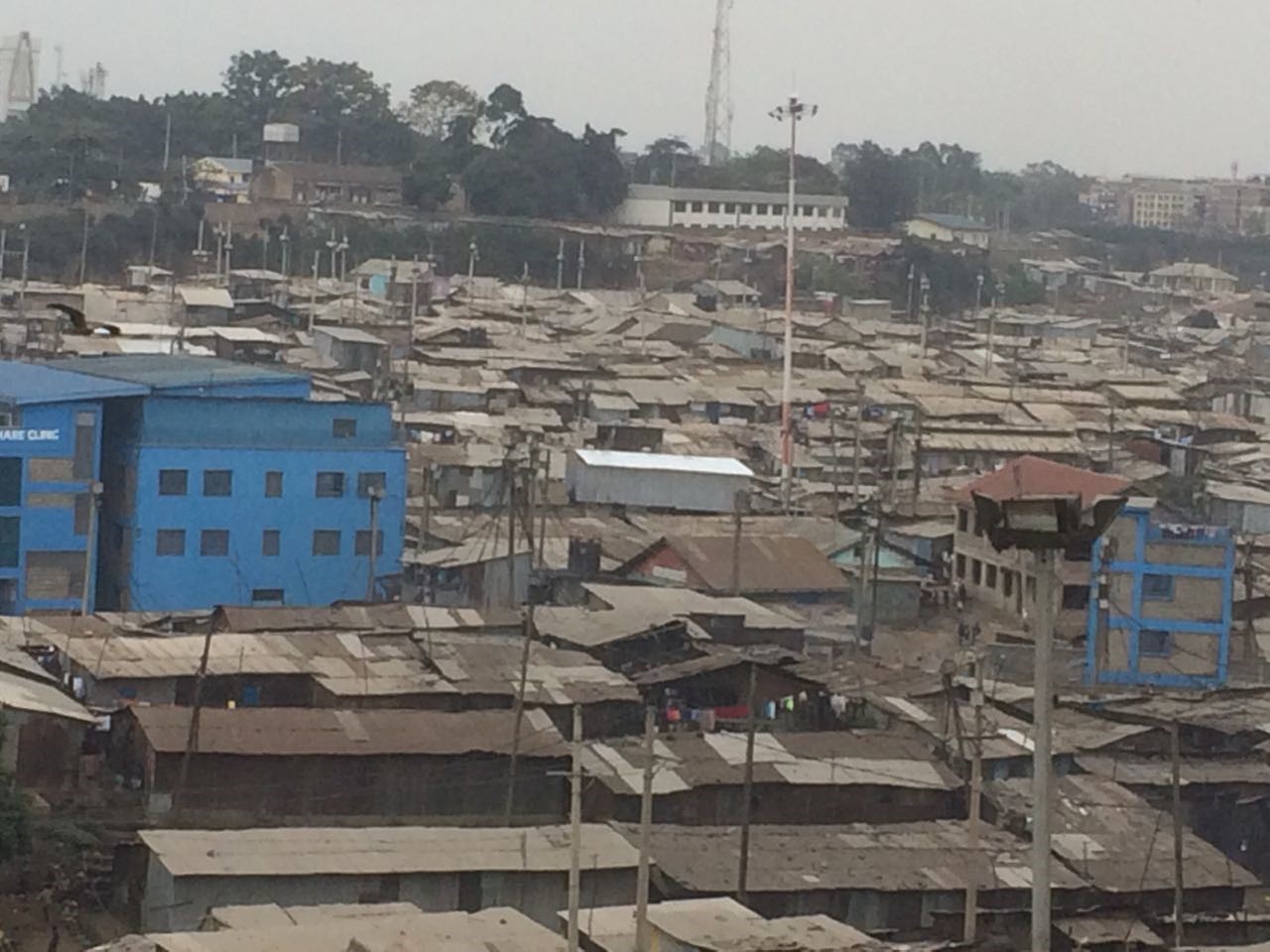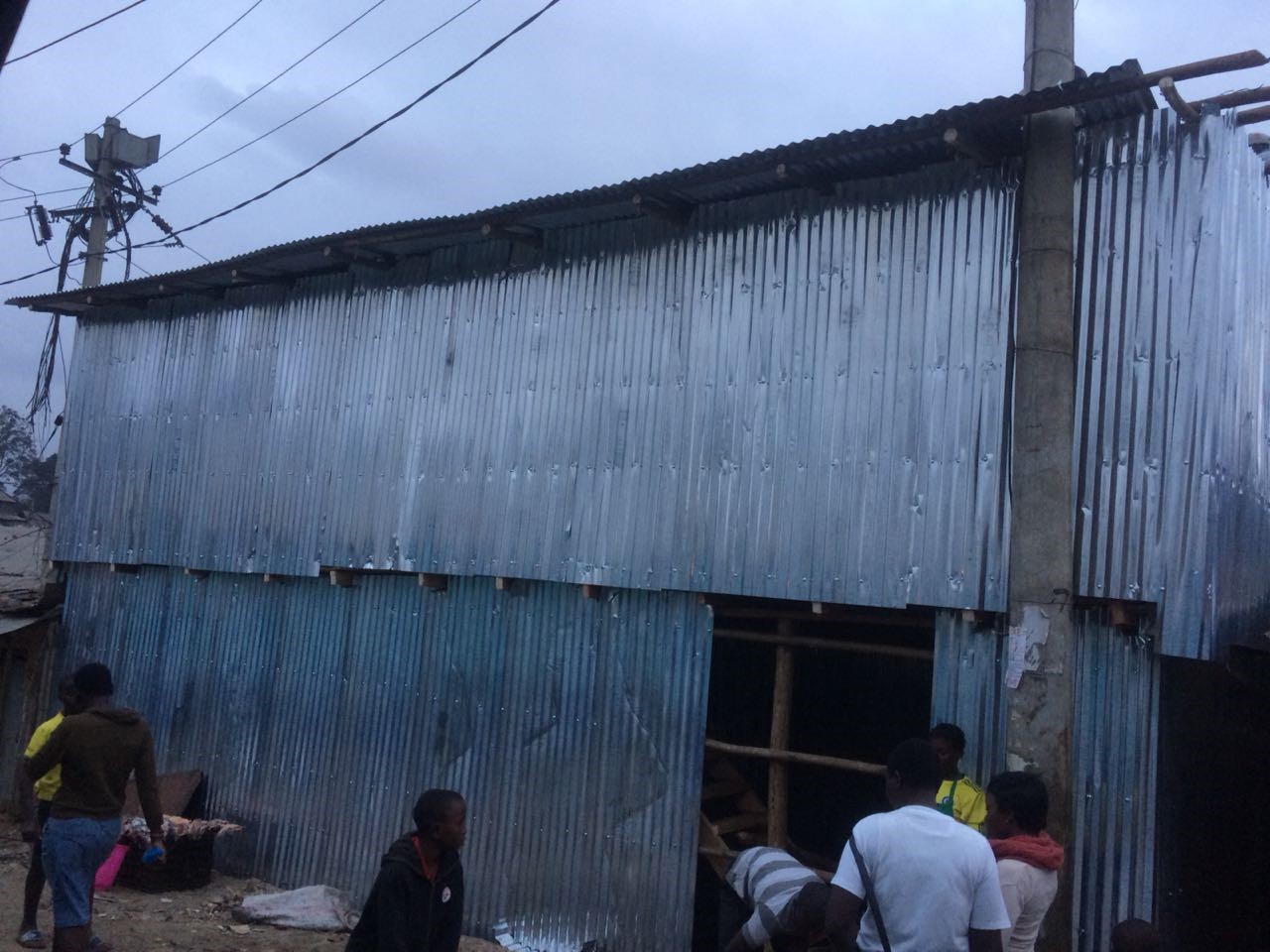 Dear Barrenjoey Church, Greetings in Jesus name.
Early this year I sought your support for the next building project in Mathare slum at the Centre of Hope and Transformation. I am delighted to report that the building is almost complete.
The journey:
With the help of other donor friends in 2017, we had acquired a plot directly opposite the church building.
Its not straightforward acquiring plots in Mathare. There is lots of negotiation required and the approval of the chief and local elders. Titles are not registered by the government (yet) and its all done the old way. Plots are bought one 3m x 3m room at a time.
But after much negotiation all bar one small room was acquired and demolished by end June this year.
Pastor Ezekiel and his church had great vision for the ministry that might be facilitated by a building on this plot.
So we requested help for the building of a humble iron sheet building to house the preschool and then release the existing preschool rooms (our first acquisition) to carpentry training of idle youth.
Friends responded generously and we had enough to acquire the remaining room from a stubborn owner in July and then complete that humble building.
The ministry vision has expanded as different opportunities have arisen, people with particular skills have come along and the church has grown.
As well as the preschool, there is a growing women's ministry with special outreach to widows.
There is a library facility with school books available to students after school and on weekends to study in the church.Most Mathare students do not have their own books to bring home.
A sewing teacher has been found who runs a tailoring business but is looking for new premises and is willing to train up others.
A carpenter is ready to share his skill with young fellows in the slum who may otherwise be lured into gangs or drugs in order to survive.
Involvement in the International Justice Mission sees the church as part of the solution with a desire to provide safe haven and counselling to victims of injustice all too common here.
So Pastor Ezekiel and his church took the opportunity to build a second storey onto this humble building at this time to house the sewing project, the library project in a better study environment and much needed childrens church facilities that could be shared with counselling and youth meetings mid week.
They stretched the available funds as far as they could and have achieved completion of the shell of a two storey multi function building that will serve the growing ministry.
We celebrate this achievement and vision. Thank you for your support (back in February) of this project.
The facility is "complete" for preschoolers on the ground floor (which is the project we envisaged) but with finishing of the upper floor and exterior on the waitlist.
For example, the builder insisted on using new iron sheets, not second hand (as budgeted) for this structure, so costs were more than initially budgeted.
Humbly I come back to you and ask whether you might be interested to share in the completion of this larger building. There is no credit facility available or affordable to slum dwellers.
We need cash to complete the project - a much bigger one than first planned - but done in faith that God would provide because this is about an expanding ministry.
We have been able to install metal doors and windows but the children will be returning to school next week to shiny new classrooms with dirt floors. Cement blocks are needed for the floors of the three classrooms. Shelves, wall linings and paint are delayed in those rooms. There is no signage.
The new kitchen space adjoins a classroom and will transfer heat unless more insulated cookers and better ventilation are acquired.
The upper rooms for sewing training, library, meeting room, children church rooms and a small office space are incomplete. They need proper flooring, better stair access, linings, shelves, paint and some furniture.
And electricity connection would be a blessing!
We will let Pastor Ezekiel and church leaders determine the priorities for any money available. We will send photos of the progress.
More good news is that we have a new toilet facility adjoining this building. Built for free by a new local project but requiring an ongoing monthly payment of about $12 for maintenance. With severe water restrictions now in Nairobi the plumbed toilets installed in our earlier buildings have not been fully functional recently so this chemical toilet, regularly exhausted(emptied) is the current option.
If you are able to assist the Mathare church in any way to complete this visionary project, we will be very thankful. The funds will immediately be used to bless the slum community. Be assured any excess will be taken to the next project - renovation of the first building which housed the preschool - to enable the equipping of youth with carpentry skills. Our first priority right now is to complete the new building to a workable (slum) standard.
Great vision and successful ministry growth comes at a price. An investment is required. We have the good people keen to serve but need help with the money to move them into this next realm.
Imagine a drop falling into a pond. As we have dropped some dollars into this Centre of Hope and Transformation (over some years now) the local people have been empowered to share the love of God with a growing number of community members. Sometimes in very practical ways which are greatly appreciated and have borne spiritual fruit, for example blessing the widows regularly or providing study books to students up to secondary level. CoHaT is welcomed by the local elders as a positive influence in the area. In turn the community has taken ownership of the church, protected it in times of insecurity when vandalism was a real threat. They are proud of "their" community facility. They are joining the church family.
Be assured we are ever thankful for your support this far. You are in our prayers. We thank you sincerely for considering to journey further with us.
God bless you
Brenda Allsop and the precious people of Centre of Hope and Transformation, Mathare, led by Pastor Ezekiel Ayuku.
Nairobi Kenya